Asha Stanford, the organizer of famous Stanford Holi and Asha SV, the organizer of the Team Asha, present to you Asha Dandiya 2015 @ Stanford on October 17th.
Hope you are all excited about Asha Dandiya 2015!
Thanks to our sponsors –
Here are a few things to keep in mind for the event:
Dance lessons start at

6:30 pm

.
Free parking available under the Wilbur field at https://goo.gl/maps/i6ijbaGLbek
Check in – tickets can be presented either on good quality printouts or on your mobile with full brightness
Cash recommended for food purchase.
Student tickets require SUID for entry.
Lookout for the selife booth, brought to you by Selfiestall.
With the disco-style DJ, we promise that you would never want to stop dancing! And don't forget to flaunt your beautiful ethnic Indian costumes!
Like us on FaceBook: facebook.com/AshaDandiya and invite your friends too!
All proceeds from this event will directly benefit the Borderless World Foundation,  an organization supported by Asha for Education, that has been transforming the lives of orphaned girls in the Kashmir valley for more than fifteen years. With a proven track record, the organization aims to double the number of girls it supports by building a home in Kupwara, Kashmir. Come play dandiya and give these children a hope for a better future!
Join hands with Asha for Education to help BWF build the home of the orphan girls by donating towards this project.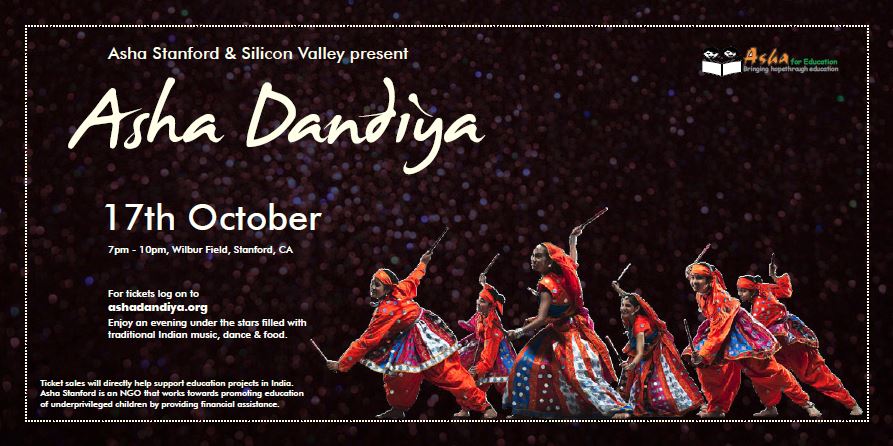 Free

Dandiya

Sticks included
Free dance lessons
Disco style fun-filled

Dandiya

!
For a deserving cause*
*Asha for Education is a non-profit organization dedicated to the support of basic education in India. Proceeds from Dandiya will go towards funding education projects for underprivileged children in India.