Kasturi Mrig – Naatak
December 13 and 14, 2003
Naatak presents "Kasturi Mrig" – a play in Hindi. December 13 and 14. Proceeds benefit ASHA, AID and Udhavam Karangal. Tickets $12 (until November 30), $15 after that. For information and tickets Contact: Manoneet Singh. You can buy tickets online also at http://www.sulekha.com/bayarea.
Talk with Leo Saldhana and Bhargavi Rao
November 9, 2003
"People, Resource, Nature and Power" – Environmental, Social Justice and Developmental Concerns in India
Speakers: Leo Saldhana and Bhargavi Rao from the Environment Support Group, Bangalore, India (http://www.esgindia.org).
Time: Sunday, November 9th at 3 PM
Venue: Stanford University, Gates Computer Science Building, room 104
Directions: click here
We are also arranging for lunch with the guests on the same day at 1 PM. Please RSVP if you would like to attend.
Sponsors: Asha for Education, Stanford Graduate Students Council and Association for India Development.
Imrat, Sultan and Kadar Khan in Concert
November 1, 2003
Asha Stanford and Kalavant present Imrat, Sultan and Kadar Khan in Concert on November 1 at the Palace of Fine Arts Theater, San Francisco. Tickets are priced at $50, $30 and $20.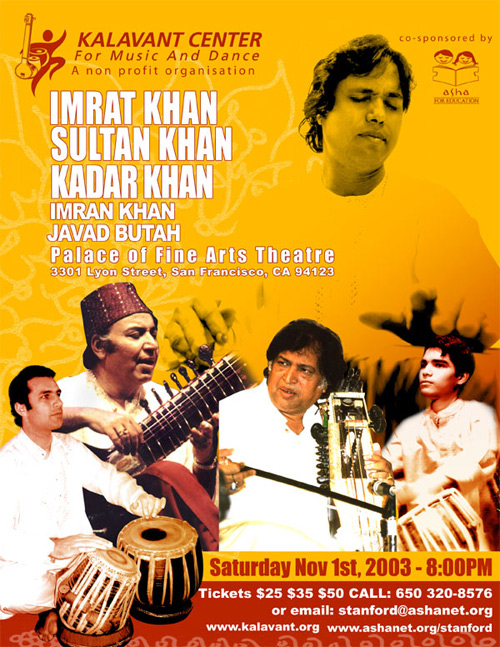 Parabaas (The Tenant) – A Bengali Play
August 16, 2003
[All profits will go to Asha. Asha runs educational projects for the under-privileged children in India. Help us raise a target of $2500 from this event.]
Parabaas is a hilarious play by Manoj Mitra where the central character Gajamadhav faces evacuation by his landlord on grounds of his bachelor status. Will Gajamadhav give up his abode of thirty-six years easily? Will the ever-interfering neighbors and other tenants allow him to leave or will they give in to the charms of the prospective new tenant – an attractive young woman! Amidst the hullabaloo of the evacuation process, can the insipid life of Gajamadhav get topsy-turvy by the presence of this woman? Do we hear the footsteps of love? Or, is it the beginning of a beautiful friendship? In Parabaas, Mitra weaves a brilliant scenario involving a lot of laughter and a few drops of tears. The characters, with their love and passions, their sighs and dreams, will enthrall you with a nostalgic longing for the eternal grace of life.
Date & Time : 5:30 p.m., Saturday, August 16, 2003
Ticket : $10 advance purchase, $12 at the gate
Venue : Cubberley Theater, 4000 Middlefield Road, Palo Alto.
** Please Note children under 6 years are not allowed.
Contact for tickets:
Email : banglanatak@yahoo.com
Phone :South Bay: Ipshita Sen-Basu
East Bay: Shanto Ghosh
Peninsula: Sharmistha Acharya
For more information about ENAD please visit http://www.geocities.com/banglanatak/
Where there's a will – Naatak
June 17-29, 2003
Naatak presents "Where there's a will" – a play in English. June 27, 28 and 29. Proceeds benefit ASHA, AID and Udhavam Karangal. Tickets $10 (until June 5), $15 after that. You can buy tickets online at http://www.sulekha.com/bayarea.
RABINDRA SANDHYA 2003
A Celebration of Tagore's Literature and Musical Creations for Everyone
(Specially designed to appeal to the non Bengali speaking community)
Kresge Auditorium at Stanford, CA; May 18th 2003, 2:30 PM to 6:30 PM.
(sponsored by Asha for Education)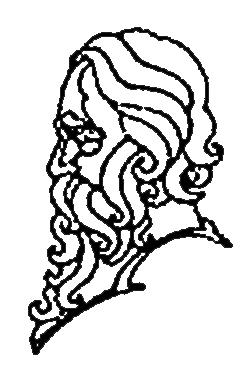 We have received an overwhelming response from our audiences on the occasion of RabindraSandhya during 2001 and 2002. This year the event is going to be even more attractive and colorful. We heartily invite all of you to join in this community event that enlightens and entertains us with the magical world of Tagore's creativity.
Tagore gave words to our thoughts and emotions and filled us with ecstasy as he ushered us to a wonderful world of love, beauty, and spiritual independence through his creations. Tagore is acclaimed worldwide as the Nobel Laureate poet from Bengal. However, appreciation of his musical genius, his experimentations with performing arts or his contributions as a contemporary playwright and theatrical theorist still remain largely confined within the boundaries of the Bengalee speaking populace.
Motivated by a desire to bridge the cultural and linguistic barrier to bring the treasures of creations of Rabindranath to all appreciative minds in the Bay Area, we are organizing RabindraSandhya 2003, an evening of creative performances by talented performers residing in the Bay Area. With relevant information and explanation (in English) of the performances, this event is an ideal initiation for the newcomers to Tagore's creative world. For those already exposed to the world of Rabindranath, RabindraSandhya 2003 will be a memorable cultural event.
Program:
Kaal chilo daal khaali, aaj phule jaai bhore
Aaji hote shataborsho pare
Individual solo program I: Artist's choice
Interval
Individual solo program II: Artists choice
Chiro aachenaa paradeshi
Holi 2003
March 22, 2003
11am – 3pm, Saturday, March 22, 2003
Wilbur Field, Stanford University
FREE supply of colors and water to drench friends with!
Dance wildly to bhangra, hip-hop and Holi music by the Bay Area's most popular DJ!
Delicious lip-smacking Indian food by Flavor of India Cuisine and Deedee's cuisine
So come on over and have a great time!
ICC World Cup 2003 Live Telecast
Feb 9 – March 23, 2003
Stanford Cricket Club is organizing live telecast of all the games of the ICC World Cup 2003, South Africa, 9 Feb – 23 March at the Bechtel International Center, Stanford University.