A Conversation with Dr Mallika Sarabhai on Communal Harmony and the Role of Civil Society
October 10, 2004
Promise of India and the Stanford University Asian Religions and Cultures Initiative present renowned danseuse, actress, tv anchor, editor/publisher, social activist and winner of numerous awards for her artistic work and her advocacy on behalf of the poor, Dr Mallika Sarabbhai in conversation with Professor Linda Hess of Stanford University regarding her passion for the performing arts, the role of civil society in reestablishing peace and harmony among communities and her interventions on behalf of the victims of the 2002 Gujarat violence – and the consequences of taking such a principled stand.
This event is co-sponsored by Asha for Education-Bay Area Chapters, Association for India's Development-Bay Area Chapter (AID), Coalition Against Communalism (CAC), India Literacy Project (ILP), Indian Muslim Council (IMC-USA) and Indians for Collective Action (ICA).
The event will take place October 10, 2004 from 10 am to noon at Stanford University, Braun Hall (Bldg 320), Room 105. The event is free and open to the public.
Talk with Nick Hansen, Project Liaison of the People First Charitable Trust
People First is a non-profit organization which works closely with village communities in Bihar. In 1992, Nick Hansen and Deepak Kumar, the current chairman of the organization, founded a school for about 80 students in the village of Paini. A few years later, the Charitable Trust was established. Today, the npo manages 16 village schools enrolling 2,000 students, a health center, a technical college and a sewing center throughout Bihar and Jharkand. Asha Stanford presently funds the People First village school in Dobhi, Bihar. Learn more here. This event is free and open to the public.
Time: Saturday, September 25th at 6 PM
Venue: Stanford University, Gates Computer Science Building, room 104
Robotana Bangla Play (August 28, 2004)
August 28, 6:00 PM
Cubberly Theatre, Palo Alto,
Tickets: $10 ($12 at the gate)
ASHA for Education Presents
ENAD'S FIFTH PRODUCTION
Robotana – A Bengali Play written in EAND's Workshop
[All profits will go to ASHA. ASHA runs educational projects for the under-privileged children in India. You helped us raise $2000 on average in last couple of years. Help us raise a target of $2500 this year from this event.]
ENAD presents Robotana, the story of which has once again been developed in ENAD's indigenous workshop. The theme of this drama is one that is very familiar to us. It's a fantasy depicting the looming disaster in a well-endowed territory of a country and it's effects on different sections of the society. The story firther unforlds when a scientist of this land invents a miracle and members of these different sections of the society try to use it to achieve their respective goals. ENAD
presents this sensitive story with consummate use of original scores and choreography for the entertainment of the viewers. The play is staged with lots of color, songs and dances, and promises to be an absolute feast for the eyes of both adults and children.
Date & Time : 6:00 pm, Saturday, August 28, 2004
Ticket : $10 advance purchase, $12 at the gate
Venue : Cubberley Theater, 4000 Middlefield Road, Palo Alto.
** Please note children under 6 years are not allowed.
Contact for tickets:
Email : banglanatak@yahoo.com
South Bay: Ipshita Sen-Basu
East Bay: Shanto Ghosh
East Bay: Sayantanee Dutta
Peninsula: Sharmistha Acharya
For more information about ENAD please visit : http://www.enadonline.org/
Antakshari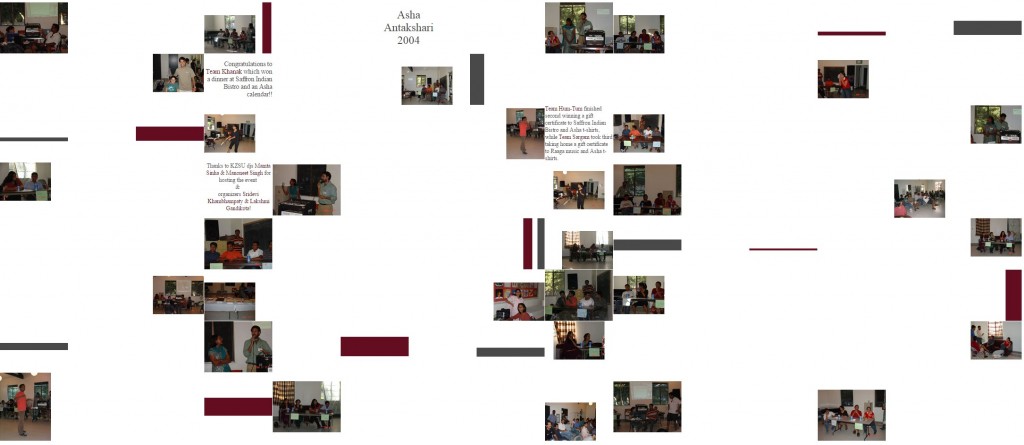 July 17, 2004
Congratulations and thanks to all those who competed and attended Antakshari with Asha Stanford on July 17, 2004. Hosted by KZSU DJs Manoneet Singh and Mamta Sinha, six teams competed for various prizes. First place went to Nupura Pradhan and Anshu Johri of Team Khanak A close second went to Team Hum-Tum (Neha Kumar and Abhishek Das). Team Chapoos (Rajiv Agarwal and Sanket) finished third. The other enthusiastic teams included Bakaits (Utkarsh Srivastava and Ritimukta Sarangi), Team Sargam (Ankur Jain and Upasana Taku) and Team Spyder (Amit Jain and Shalabh Gupta).
The event also included dinner, prepared by Asha volunteers, for nearly 50 attendees. For pictures and more info, click here.
Asha Stanford presents a fun event for the Stanford community. Antakshari hosted by KZSU DJ's Mamta and Manoneet on 17 July 5 pm onwards. There will be followed by food and an open dance floor. For more details you can view the eflyer. Please register using Evite here.
Antakshari is a musical game. It is played in a group of two or more. Rules are simple – the first person starts the game by singing a song. The letter with which the song ends is passed on to the next contestant. The next person has to sing a song starting with the same letter as the last song ended with.
Rabindra Sandhya 2004
A Celebration of Tagore's Literature and Musical Creations for Everyone
(Specially designed to appeal to the non Bengali speaking community)
Kresge Auditorium at Stanford, CA; May 23rd 2004, 2:30 PM to 7:00 PM.
(sponsored by Asha for Education)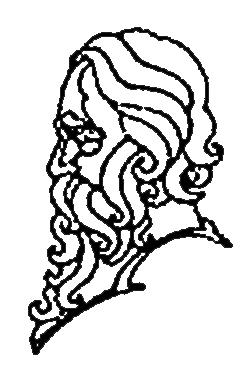 We have received an overwhelming response from our audiences on the occasion of RabindraSandhya during 2001, 2002 and 2003. This year the event is going to be even more attractive and colorful. We heartily invite all of you to join in this community event that enlightens and entertains us with the magical world of Tagore's creativity.
Tagore gave words to our thoughts and emotions and filled us with ecstasy as he ushered us to a wonderful world of love, beauty, and spiritual independence through his creations. Tagore is acclaimed worldwide as the Nobel Laureate poet from Bengal. However, appreciation of his musical genius, his experimentations with performing arts or his contributions as a contemporary playwright and theatrical theorist still remain largely confined within the boundaries of the Bengalee speaking populace.
Motivated by a desire to bridge the cultural and linguistic barrier to bring the treasures of creations of Rabindranath to all appreciative minds in the Bay Area, we are organizing RabindraSandhya 2004, an evening of creative performances by talented performers residing in the Bay Area. With relevant information and explanation (in English) of the performances, this event is an ideal initiation for the newcomers to Tagore's creative world. For those already exposed to the world of Rabindranath, RabindraSandhya 2004 will be a memorable cultural event.
RabindraSandhya 2004 is a Four-hour program, conceived to offer a glimpse into the vast panorama of Tagore's creativity.
Nishtha Children's Chorus
Individual solo program I Artist's choice: Our artists will sing the songs of their inspiration, love and worship
Shishu Bholanath: A Kaleidoscope of moods and emotions reflecting the effervescence, inexperience and the anxieties of childhood presented through song, dance and recitation
Individual solo program II Artist's choice: Our artists will sing the songs of their inspiration, love and worship.
Talk with Balaji Sampath and Kalpana Karunakaran
HOW BIG IS A 1000? Expanding micro-level efforts to the 1000-village scale … and beyond
Speakers: Balaji is an AID JeevanSathi. He has been working with AID-India since 1997 and before that was part of AID-USA. Both Balaji and Kalpana have also been working with the Tamil Nadu Science Forum. They will share their stories and experiences.
Time: Saturday, May 22 at 3 pm
Venue: Campbell Public Library, 77 Harrison Ave. Campbell, CA
Balaji Sampath is an AID JeevanSaathi, who returned to India in 1997 after a Ph.D. from Univ of MD and a crucial role in building AID chapters across the US. He has been working full-time with AID-India and Tamil Nadu Science Forum (TNSF). A captivating speaker, Balaji is on a short visit to US to share his experiences. Kalpana has worked with TNSF for several years, playing a key role in the women's savings movement MALAR, with 7000 members in Kanyakumari district.
Spreading village-level efforts to a 1000 villages is beyond the scope of most NGO efforts. The challenge is to organize the expansion while maintaining the quality at village level. Arogya Iyyakkam has inspired 1000 people like Uma to work on children's and women's health in Tamil Nadu. Now, the health program is spreading to 800 villages in Bihar through Hundred Blocks Plan.
Balaji and Kalpana will share many stories and experiences that form part of these remarkable initiatives. Each village's story of action and commitment is behind the statistics and achievements. And then: While 1000 villages is big, how does it compare with the 750,000 in India? Can we go beyond this?
Holi 2004
March 20 & 27, Wilbur Field, Stanford University