The Asha-20 conference was held at Stanford University between May 28-30, 2011 organized by the Silicon Valley and Stanford Chapters of Asha for Education. The hugely successful conference had over 70 attendees from across 15 chapters of Asha.
See below for the schedule of the conference and a profile of the speakers: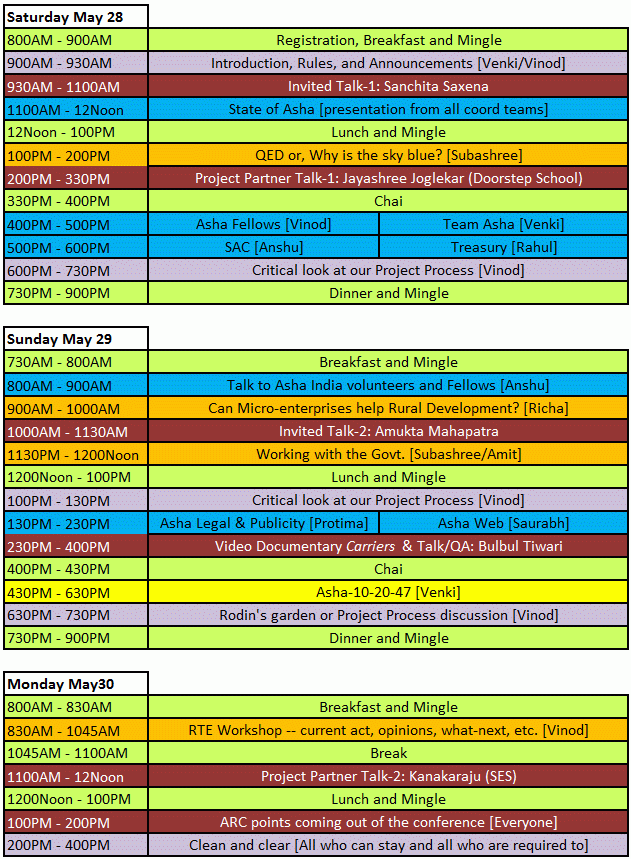 Speakers
Amukta Mahapatra
Amukta Mahapatra is Director, SchoolScape, a centre for educators which focuses on the preparation of the teacher and enables schools, education departments and organizations to enhance quality of learning in the classroom.
She has been associated with the field of education since the 1980s when she started her teaching career at the Krishnamurti Foundation India school in Chennai. Since then, she has set up the Abacus School, Madras, where for the first time in India, in recent years, Montessori ideas of education were applied right up to the elementary level while following the mainstream syllabus. She has worked with several NGOs and schools; she has designed a programme for public-private partnership in Karnataka that still continues to function.
While working with UNICEF, she helped to develop along with a seven-member internal task force, a Quality Package to be implemented in government schools across ten states. Monitoring and observation formats were also designed and field-tested in different states along with training for field staff and third party evaluations.
She received Best Teacher's Award from "Lady Kalyani Sivaswami Ayyar Best Teacher Award", 2001. She has been a member of several committees such as National Resource Group (NRG) for SSA; NEGAEE, NCERT, Delhi; R. Govinda Committee on teacher education; and CABE Committee (1987-89).
She has organised many national and international conferences; some of them being — the International Democratic Education Conference in 2004 in Bhubaneswar; 50 years of Montessori in India at Kalakshetra, Chennai in 1989. She has participated and presented papers at national and international seminars. She has published articles and papers; her work has been mentioned in 'Improving Government Schools, what has been tried and what works' published by Books for Change, 2005 and 'Back to School', Best Practices edited by Vimala Ramachandran, Sage Publications, 2004.
---
Sanchita Saxena
Sanchita Saxena is the Associate Director of The Center for South Asia Studies (CSAS) at UC Berkeley. Sanchita is responsible for spearheading new research initiatives, developing programmatic activities, and managing the Center's budget and staff.
Prior to joining CSAS, Sanchita was the Assistant Director of economic programs at The Asia Foundation, where she was responsible for designing and implementing programs to stimulate private sector growth in 18 countries throughout Asia. While at the Foundation, she co-authored "The Phase-Out Of The Multi-Fiber Arrangement: Policy Options And Opportunities For Asia."
Sanchita is currently the Lead Researcher on an Asia Foundation funded project titled : "Competitiveness In The Garment And Textiles Industry: A Case Study Of Bangladesh." To hear a podcast of a recent talk on this subject, please go to http://www.brownbagradio.net.
Sanchita is currently working on a book length project examining domestic coalitions in the garment industry, and their influence in enacting policy reforms in Bangladesh, Cambodia, and Sri Lanka.
Sanchita received her Ph.D. in Political Science (focus on Comparative Political Economy) from UCLA in 2002. Sanchita has taught courses in Comparative Politics, The Politics of Developing Countries, and The Politics of Economic Reform in Asia and Latin America at UCLA, UC Davis, and The University of San Francisco.
She is a Trustee of The American Institute of Indian Studies and The American Institute of Bangladesh Studies. She is also a volunteer with The Class Consulting Group, a volunteer consulting firm that provides services to non-profit organizations.
Her research areas of interest include: Politics of economic reform, private-public dialogues, coalition building, role of NGOs in development, local economic governance and decentralization, SME development, regulatory reforms, business climate improvements, international trade, firm level productivity and competitiveness.
---
Bulbul Tiwari
Bulbul Tiwari received her MA and PhD in South Asian Languages and Civilizations from the University of Chicago, focusing on Indian visual and performative cultural history. She sees herself primarily as a media scholar who, from time to time, likes to cast off the strictures of specialized academic scholarship in favor of an oscillating dance between "the world, the text, and its critic"—in Edward Said's words and touch the worlds beyond academia. At such heady moments Bulbul has written and directed plays, made films, and designed websites. All her works demonstrate her interest in myths, narratology and technology, particularly in South Asia.
Bulbul's digital, multimedia dissertation explores Indian visual culture of the last two thousand years; it traverses ritual, classical dance-drama, folk theatre, sculpture, film and television narratives and creates a new version of the Hindu epic, The Mahabharata. Maha Multipedia: The Mahabharata reworked in mixed media for a nine night performance is meditation on narrative and form, as well as the search for individual identity in the haystack of history. It was the first entirely digital dissertation at the University of Chicago and only the third of its kind in the US. Bulbul is currently working on turning this project into a wiki and online digital archive.
While at the University of Chicago, she taught courses on Indian film, film style and interpretation, Indian intellectual history, Hinduism and Writing. Earlier, she completed an AB at Harvard University in Comparative Literature and also learnt filmmaking. She has worked in the film industries of New York and Mumbai in various capacities. In 2002 Bulbul produced and shot her own documentary about the lives of Indian truck drivers, Carriers. The film was screened at festivals around the world before it ended up on European TV. She hopes her next cinematic project will feature the Pacific Ocean and giant Silicon Valley robots.
---
Project Partners
Jayashree Joglekar
Jayashree is the director of Door Step School in Pune. Doorstep School (DSS) provides education and support to the often-forgotten children of pavement dwellers, slum dwellers, construction site families and many other underprivileged families. Many of these children are not enrolled in school and have limited access to books and a place to study. Additionally, many children drop out of school to work or care for younger children. With neither support nor resources at home some children also suffer from very low learning levels. DSS is trying to bridge this gap by bringing education to the "Doorstep" of these underprivileged children.
---
Kanakaraju
Kanakaraju-garu is the founder of Subrahmanya Education Society and has since 1994 focused on providing education for underprivileged children living in the slums of Hyderabad. SES-School is a formal school being run for the slum children in the Adikmet (bordering the walls of Osmania University) area of Hyderabad. he mission is to make deep inroads into every ignored and neglected area in and around Osmania University, Hyderabad to locate children and bring them into a learning setting so that they can be children. SES team works closely with the local community, accessing local resources, and constantly reviewing their work with feedback from children, parents and our teachers.